My children adore playing games on my iPhone, and they were super excited to try out a new-to-us app over the summer.  My daughter Morgan has been working on her reading comprehension with the new interactive book, Orphs of the Woodlands at Tangletree, from Star Toaster.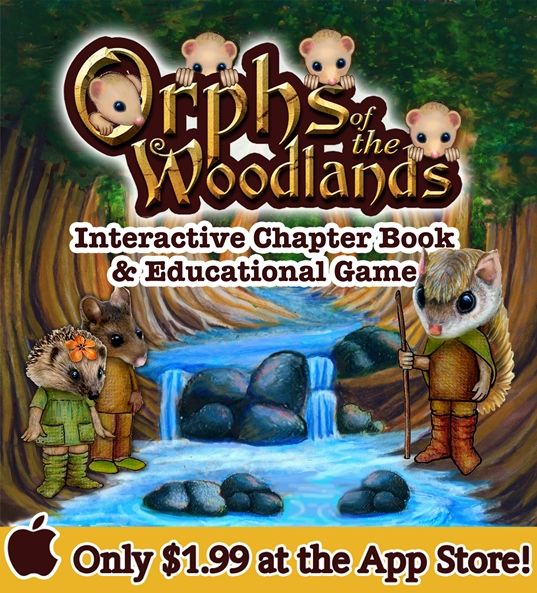 When first chosen for the review, I signed my six-year-0ld son Maverick up as the main player.  Unfortunately we soon learned this app was over his head without constant adult help and supervision, so my ten-year-old daughter took over.  It was important to me that the player could essentially work through the interactive book alone since we are entering a busy season preparing for the new school year and the arrival of our eighth child.
Morgan dug into the audio book, which she thought was really cute.  She is my child who adores woodland creatures so the story was right up her alley.  Throughout the story, she could click on different words to learn more about them and prepare herself for different tasks she would be asked to complete throughout.
One of Morgan's favorite characters.
After every few chapters Morgan moved into the "job training" stage.  She clicked on pictures of things such as birds, lightning, flying squirrels, hedgehogs, and pulleys to learn more about them.  After this, she looked at the "help wanted" positions.  Morgan answered questions about topics such as "Weather Watchers" and "Sound Scientists."  If she answered correctly, she collected stars to help fund needed items such as fresh water and nuts.  While reading and comprehension was the main focus of Orphs of the Woodlands, there were also some other concepts thrown in, such as science.
Overall, the game was easy to navigate, and Morgan learned the instructions easily with minimal help from me.  I would say that children in third grade and over could navigate this app without much help or supervision.  This is the making of a perfect children's app in my opinion.
When I asked Morgan's opinion of Orphs of the Woodlands at Tangletree, she said, "it wasn't really boring, but it wasn't really fun either."  In all fairness, I think she was looking for an interactive book which was more "game-like" with less reading involved.  But from my perspective, I really liked it.  My goal in homeschooling is for my children to learn through pretty much everything they do.  If they can learn through a fun app, I'm all for it.  There is way too much "fluff" out there which doesn't teach our children anything of worth.  This interactive book offered many ways for our children to learn while playing on their devices.
Connect with Star Toaster on Social Media:
Facebook: https://www.facebook.com/startoaster4kids
Twitter: https://twitter.com/StarToaster
Hashtags:  #hsreviews #readingsupplement #readingapp #readinggame
Connect with me on Facebook to join a community of likeminded women!  You can also find me on Twitter (@Nicole_CAABBlog), Instagram (Nicole_ChildrenareaBlessing), Pinterest, and YouTube.  If you are a blogger, please join our Growing in Grace Link Up on Thursdays.
Possibly linking to these awesome link parties!
Read more reviews from the fabulous TOS Review Crew below:

Related posts: