Through the years, I've found that Language Arts curriculum is really hit and miss for my kiddos.  What works for one child rarely works for the next.  So you can probably imagine my excitement when we were able to review a new to us Language Arts curriculum. Morgan and I both really liked using Language Smarts™ Level E from The Critical Thinking Co.™.
While Morgan is "officially" a fifth grader, I felt like this fourth grade curriculum would probably be a good fit for her.  Language Arts is definitely not her favorite subject, and I wanted to see if she would like this particular curriculum better than what she was using.
I was happily surprised when Language Smarts Level E arrived in the mail.  This was a big book!  It includes nearly 400 pages of Language Arts instruction.
What I liked best about this curriculum was how straight forward it was!  The instructions are easy to understand, and are found in a red boxed section at the top of the page.  Morgan has been known to complain about not understanding directions, but she had no reason to with this curriculum!  It's ease of use was tremendous!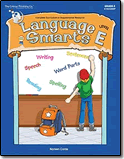 Language Smarts Level E hopes to improve a host of language skills, such as reading, writing, spelling, and grammar.  It also concentrates on thinking skills, which is a huge bonus in my opinion.  Critical thinking skills are important as an adult, and so it is a good thing when children are made to think, and to critically analyze their assignments.  A complete list of standards is noted at the front of the text.  Besides a full page of critical thinking skills such as determining point of view, predicting, making inferences about characters, writing a narrative, and much more, language arts standards are noted as well.  Children who work through Language Smarts Level E will learn about parts of speech, punctuation, reading, sentences, word usage, writing, and more.
Language Smarts Level E works as either a complete curriculum or as a supplemental resource.  After a few days, I decided to stop using what we were doing previously for Language Arts with Morgan and only concentrate on Language Smarts.  She completes two pages each day.  Our Language Arts time is much more painless now, and I feel like she is much less overwhelmed.  Both of us are very pleased.
In fact, I like this curriculum so much that I've picked out a few other items I would like to try from The Critical Thinking Co.™ catalog.  As soon as we can, I plan on buying new items for both my preschooler and Morgan to begin in 2017.
The Critical Thinking Co.™ also produces great learning software.  Do you have preschoolers? The Critical Thinking Co.™ explains the Importance of Preschool Academics and suggests a software bundle to get them started learning. Some of the other members of the Homeschool Review Crew reviewed software from the Reading, Writing, and Arithmetic Before Kindergarten!™ bundle, and you should definitely check it out.
Read more reviews from the TOS Review Crew below: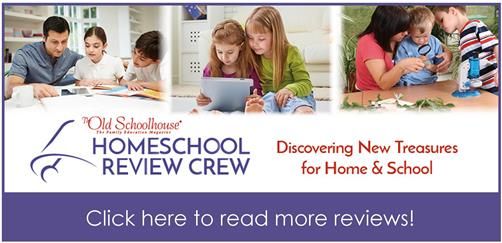 Related posts: