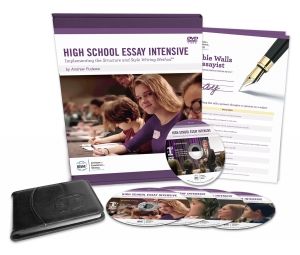 Melani is almost ready to enter her senior year of high school (eek!), and we are working on ACT prep.  While she loves to write on her blog and fiction, non fiction essay writing has never been her cup of tea. 
High school writing
can be kind of overwhelming with preparing for ACT, SAT, and college applications so I was very pleased to receive High School Essay Intensive from
Institute for Excellence in Writing
for Melani to try.  Since she knows the ACT will be looming soon, she was happy to use this curriculum to see if it helped her prepare.
When we received the curriculum from IEW in the mail, I was pleasantly surprised.  This is a nicely done boxed curriculum!  It came with 5 DVDs in a beautiful carrying case, along with Student Handouts.  I seriously LOVE the carrying case!  It will last for many years to come.  Since Melani is a visual learner, I LOVE the DVD format.  It is perfect for her.  She was able to follow along with the seminar with no problems whatsoever.
The DVDs contain material related to essay writing, and topics students need to know regarding the SAT and ACT.  At the time of this writing Melani has worked through the General Strategies for Essay Writing portion. She has watched it in small chunks around her other school work requirements.  It has fit easily and seamlessly into her day.  Other sections include:
Understanding and Preparing for the New ACT Essay
Understanding and Preparing for the Redesigned SAT Essay
Strategies for the "personal essay"
Melani will begin to work on the "Understanding and Preparing for the New ACT Essay" section soon. So far, she feels like the curriculum from IEW is laying the groundwork that she needs to work through this next section.
In her own words:
"High School Essay Intensive is very articulate in their teaching method.  I enjoy how they break writing essays down into steps that are easily achievable.  It's not near as intimidating as jumping into an essay without a guide.  The course explains different writing styles and structures that are preferred by colleges and college entrance exams.  I felt like I did come away with a lot of new information.  The DVDs are writing seminars, so it's almost like you are present, taking the classes from the professor.  All in all, I would definitely recommend this course."
Melani is required to write an essay at least once per week while going through her "regular" school work, and I feel like she is improving.  She is really starting to understand essay structure, and I believe she will have an advantage when taking the ACT in the fall.
The High School Essay Intensive is available for the cost of $79.00.  I honestly think it's worth every penny if you have a high school student who might be, or definitely is, college bound.
Find the Institute for Excellence in Writing on Social Media:
Facebook:  https://www.facebook.com/excellenceinwriting
YouTube:  https://www.youtube.com/iewtv
Twitter:  https://twitter.com/iew  @IEW
Pinterest:  https://www.pinterest.com/iewriting/
Hashtags: #hsreviews #highschoolwriting #SATprep #ACTprep
Read more reviews from the Homeschool Review Crew below: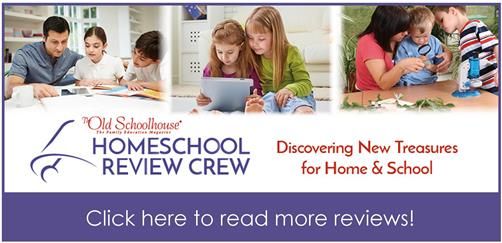 Related posts: