For the past several years, we have loved using Apologia Educational Ministries homeschool curriculum for science! Both my daughter and my son has really enjoyed our time together working through Exploring Creation with Astronomy, 2nd Edition.  When this product came up as an option to review with the TOS Review Crew, I was overjoyed!  We had already completed two other elementary science levels with our kiddos, and I knew that Astronomy would fit perfectly in with the rest of our studies.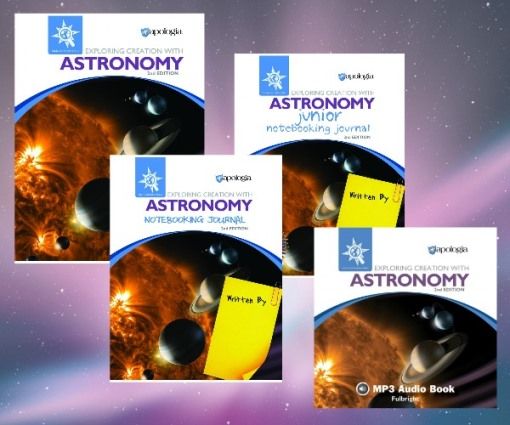 The product came perfectly packaged to us, and we dived right in.  As a homeschool mom, I really appreciated the beautiful layout of the 2nd edition.  The colors were bright, and the photos and diagrams really pulled my children in.  As always, I love that Apologia curriculum is written from a Christian perspective.  Jeannie Fulbright wrote a thoroughly engaging text, that my fifth grader chose to read on her own on many different occasions.
We were sent the the Exploring Creation with Astronomy text, Notebooking Journal, Junior Notebooking Journal, and Audio CD.  I asked my fifth grader and my first grader to help me review the materials throughout the review process.  The suggested daily schedule found at the beginning of each notebook was super helpful, and we followed it closely.  While my fifth grader could have easily followed along and completed the work on her own, we worked through it together with my first grader.  I love how the two notebooking journals are different, yet the same.  The assignments line up closely, and yet they are at the correct level for each of my children.
We kicked the class off by making a Creation Confirmation Bookmark and reading through the lesson for the day.  Both of my children were excited about creating a special bookmark (which was actually more like a small book) for themselves.  The notebooks are super engaging, and really reinforce what was taught in the text well.  I really liked the scripture copywork included, and my children enjoy completing minibooks and other activities such as crossword puzzles and coloring pages.  My first grader is a master colorer!
Through the review period we touched on a good introduction to Astronomy, as well as a unit on the sun.  We are looking forward to learning more about the planets, and other topics such as space rocks, Kuiper Belt, dwarf planets, stars, galaxies, and space travel.  We are blessed to have an amazing science museum the next town over, which includes a section all about space.  I can see a few field trips in our future as we work through this great program.
If your child enjoys learning in a hands-on way, with fun notebooking activities as well as experiments along the way, then I would say this curriculum is for you!  We personally love that there are not any "tests" per say included in this curriculum, the knowledge that your child has learned can easily be seen in their notebooking journals!  We have truly enjoyed working through the beginning of this program.
Connect with Apologia on Social Media:
Facebook: https://facebook.com/apologiaworld
Twitter: https://www.twitter.com/apologiaworld @apologiaworld
Pinterest  https://www.pinterest.com/apologia/
Instagram:  https://www.instagram.com/apologiaworld/
Hashtags: #hsreviews #apologia #astronomy #homeschoolscience
Read more reviews from the TOS Review Crew below:

Related posts: