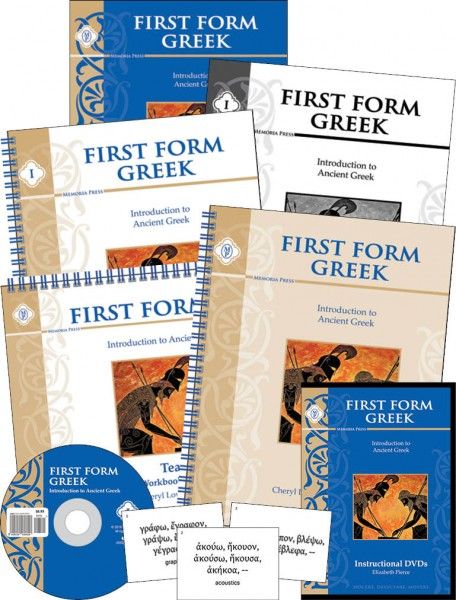 We have loved everything we have used from Memoria Press so I was thrilled to be able to review
First Form Greek Complete Set this year. Memoria Press is a company that I have come to expect good things from. The company is based on the classical form of education, which I love. I appreciate the fact that they offer both modern and ancient languages. My oldest daughter Melani is very interested in Biblical Studies, and so I thought this curriculum would be a perfect fit for her.
My son Mason used Memoria Press' logic set last year, and we LOVED it. I was equally thrilled when the First Form Greek Complete Set arrived in the mail. The packaging was beautiful, and I could hardly wait for Melani to dive in. She had completed a year of Spanish in the past, and foreign language really intrigues her. Since Greek is the language of the New Testament, I thought she would enjoy it while stretching her mind.
The First Form Greek Complete Set includes several different resources, which I love. Melani dove into her Student Text, Workbook, and DVD set, while I looked over the Teacher Manual, Teacher Key, and Quizzes and Test booklet. Melani is a junior, and she began working through the lessons, with little help from me. She did say that her experience with Spanish conjugation helped her pick up on the lessons quicker than if she had no prior experience.
In her own words:
"Repetition is a big theme in this Greek curriculum. The lesson plan sticks with one topic for several lessons, which I think helps me grasp the material better. The curriculum emphasizes writing Greek more than speaking at first, but with the Greek and English alphabets' distinct differences, I think it makes sense. While the lessons can take me a few minutes to fully grasp, they aren't too challenging."
Overall, she really is enjoying it. Melani has had no former latin instruction (which Memoria Press recommends as a perquisite for younger students) and yet she is doing well. The material is presented in a very logical manner, and I believe just about anyone can learn the material. She did need to spend a bit of extra time in the first lesson while learning the Greek alphabet.
I really like the layout of the teachers manual. The instructions are laid out really well, and the exact student text is found on each page. This is SO helpful to me when I'm helping Melani out with a question. I appreciate that Memoria Press added this detail.
The First Form Greek Complete Set can be purchased from Memoria Press for $125.00. I think this program is a wonderful investment, especially if you or your child is interested in the Greek language, and you appreciate classical education methods.
Connect with Memoria Press on Social Media:
Facebook: https://www.facebook.com/memoriapress/
Instagram: https://www.instagram.com/memoriapress/
Twitter: https://twitter.com/MemoriaPress @MemoriaPress
Pinterest: https://www.pinterest.com/memoriapress/
Hashtags: #hsreviews #memoriapress #classicalchristianeducation #classicalyhomeschooling #classicalchristianhomeschooling
SEO Keywords:
classical christian education
classical christian curriculum
classical christian homeschool curriculum
memoria press
first form greek
iliad
odyssey
american history
Read more reviews from the Homeschool Review Crew below: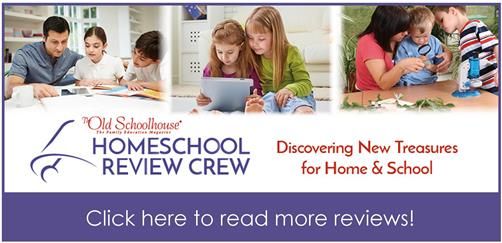 Related posts: