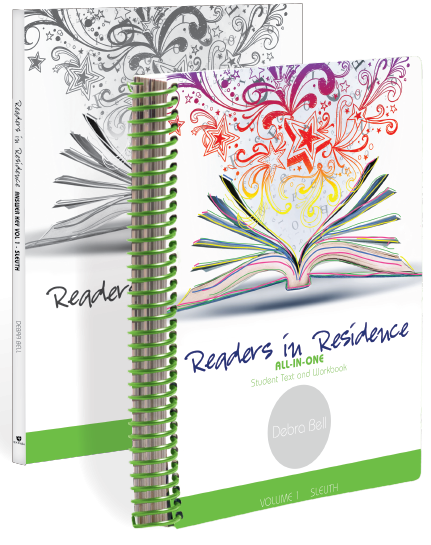 My daughter Morgan has always been a hesitant reader until this year.  At the age of 10, she has blossomed and actually requests books as birthday presents now.  A few months ago we were asked to review and use a brand new
homeschool reading curriculum
from
Apologia Educational Ministries
called Readers in Residence Volume 1 (Sleuth).  I was very excited about this opportunity because I hoped this curriculum would help Morgan love to read even more.
Readers in Residence Volume 1 (Sleuth) is a product of Apologia Educational Ministries.  I knew that immediately we would have a winner, since Apologia always seems to put out wonderful products.  All we needed to get started was a copy of Sarah, Plain and Tall.  I was able to pick this up on Amazon for around $3.00 (yay for sales!), along with the sequel to this book in case Morgan wanted to continue the story.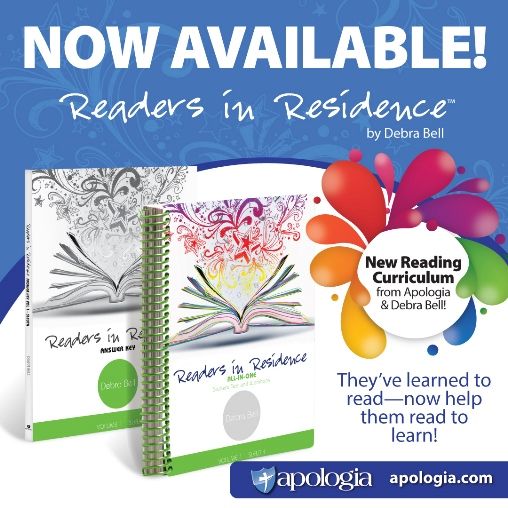 When I first handed Morgan her new RIR All-in-One Student Text and Workbook, her eyes widened!  This book is thick, and she was a bit intimidated.  But once we actually thumbed through the book together, she relaxed, and realized that she could do this.  This text and workbook combo is full of bright and inviting graphics, inviting the student to dive right in.  A softbound answer key was also provided for us.  I'm was so grateful to have a reading program for Morgan to try which filters everything through the truths found in God's Word.
While we found the book Sarah, Plain and Tall to be slightly underneath Morgan's reading level, the RIR text and workbook was right on point.  It is a gem, and Morgan has really learned more about the differences between nonfiction and fiction, narrative and non-narrative texts, literary genres, character development, and so much more.  Through the RIR program she has learned how to be a "sleuth" when it comes to reading.
Each day, Morgan would complete part of a module.  Sprinkled within each module are working point to really seal each new concept in her mind.  While learning about character development, I believe Morgan has grown immensely in her ability to pick up "context clues."  Comparing and contrasting exercises have helped her to understand similarities and differences that characters have more thoroughly.  It really has been a joy to use, especially for the busy homeschool mom.  She has been able to work through the book with little help from me, and since the text and workbook are combined, there is only one item, and not two, for her to keep track of.
The Readers in Residence Volume 1 (Sleuth) program also includes sections that go through Charlotte's Web and Because of Winn Dixie.  While we aren't quite there yet, I plan on continuing this curriculum through to the end.  Morgan has learned so much already.
The full set is available from Apologia Educational Ministries for the cost of $89.00.  I truly believe this gem of a curriculum is worth it.  Our family has loved it!
Connect with Apologia Educational Ministries on Social Media:
Facebook:  www.facebook.com/apologiaworld
Instagram:  www.instagram.com/apologiaworld   @apologiaworld
Twitter: www.twitter.com/apologiaworld   @apologiaworld
Pinterest: https://www.pinterest.com/apologia/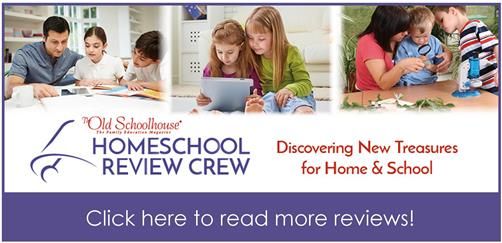 Related posts: